Active Member Acting Captain Jason "Poppy" Popovich
Dec 26, 1970 – April 4, 2023
Local 3888 Members;
We have met with Jason's family and have made the following arrangements for our brother, Acting Captain Jason Popovich's Active Member Ceremony.
Visitation
Wednesday, April 12th, 2023 (B platoon working)
Kane- Jerrett Funeral Home
8088 Yonge St
Thornhill, ON
2:00 pm to 4:00 pm
5:00 pm to 8:00 pm
Ceremony
Thursday, April 13th, 2023 (D-platoon working)
Bayview Glen Church
300 Steeles Ave E.
Thornhill, ON
11:00 am Visitation
Noon Ceremony
Collation
Following the ceremony, a non-alcoholic reception will be held in the church lobby.
Dress
TFS personnel attending the funeral are to wear full dress uniform (white shirt and gloves) and cap.
Cap badges will NOT be shrouded.
Form Up and Rolling Salute
We will be forming up and honouring Jason with a rolling salute. Members will be asked to form up and come to attention when the command is given.
The rolling salute begins at the colours (Canadian Flag) and is completed at the rear step of the caisson, then bowing your head as the family passes. Continue to stand until you're dismissed.
Our goal is to make it look like a wave.
The service will also be live-streamed. The link will be available on the Kane-Jerrett website by following the link Here.
The following obituary was copied from the funeral home website and found Here.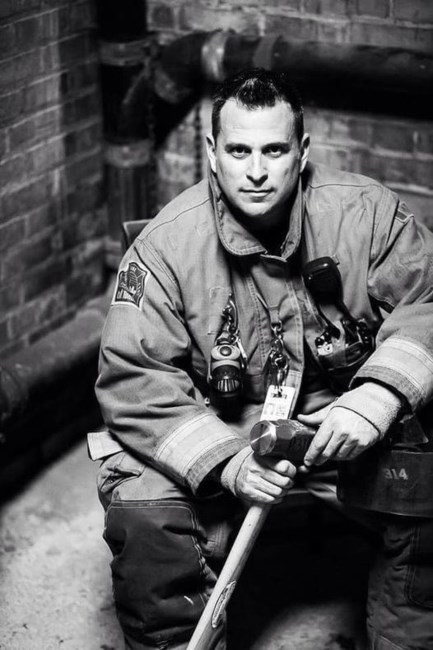 Jason Mark Popovich was a proud firefighter who dedicated his life to saving others. It is truly heartbreaking that his own life was cut short, at the young age of 52 after he lost his fierce fight with cancer on April 4, 2023.
While Jason was on this earth, he embraced every aspect of his beautiful life with a full heart. Born to Tom and Joyce Popovich on December 26, 1970, he was the youngest of three brothers. He is survived by his mother Joyce, brothers Jim and Dave, as well as their respective spouses, Kim and Dana. Jim and Kim have four children (Jordan, Isaac, Emily, and Ben) who will greatly miss their uncle.
Jason treasured his wonderful family and his wife of 20 years. He married his best friend and love of his life, Jennifer Baker, on November 4, 2003. As if fate played a role, they celebrated their anniversary early, in February 2023, at the Mayan Riviera resort where they became husband and wife 20 years ago. Everyone who knew them was touched by their unique bond and immense love for each other.
Jason was warmly welcomed into Jennifer's family by her mother and step-father, Anne and John Fair, father and step-mother, Robert and Ala Baker, brother Jeff, and his wife, Ann. He was a proud uncle to Jeff's and Ann's children, Riley and Hudson. Jason also built a special bond with his goddaughters, Brooke and Rylie, daughters of his cousin Deanna who he loved like a sister.
Jason's firefighter family was also a source of immense pride and love. He became a firefighter in 2005 and then acting captain in 2022. His crew worked together, lived together, and ate together. As a talented chef, Jason loved cooking and sharing meals with his brothers and sisters at fire halls including 314B platoon at Wellesley and Grosvenor, A312B in Yorkville, as well as A315 near Kensington Market.
Jason loved his profession so much that he formed a company called Firehouse Clothing in 2014, in partnership with his brother, Dave, and his wife Jennifer. Firefighters and their families across the country proudly wear Firehouse Clothing to demonstrate their love for the profession as well. With Jason's passing, people everywhere will treasure their Firehouse Clothing even more than before.
Jason was also an athlete who loved playing hockey in several leagues for over 40 years. He also loved watching hockey right up to his passing at Lakeridge Health General Hospital, where he was cared for by a team of incredible doctors, nurses, and staff.
Jason had friends from every stage of his life who lit up whenever they saw him. He treated so many of them like family. Based on his love of travel, cooking, history, politics, and the arts, it was impossible to have a dull conversation with Jason. He made a memorable impact on all who had the pleasure of meeting him. His sparkling eyes, mischievous grin, and classic Poppy shuffle will be missed.
In lieu of flowers, a GoFundMe page (https://www.gofundme.com/f/the-family-of-jason-popovich) has been set up for donations, to alleviate the financial hardship of countless medical expenses and other unexpected costs incurred while losing a loved one. Donations can also be made to Lakeridge Health Oshawa (Durham Regional Cancer Centre).
A visitation for Jason will be held at Kane-Jerrett Funeral Homes, (8088 Yonge Street Thornhill) on Wednesday, April 12, 2023, from 2:00 PM to 4:00 PM and 5:00 PM to 8:00 PM.
A funeral service will occur at Bayview Glen Church (300 Steeles Avenue East, Thornhill) on Thursday, April 13, 2023, at 12:00 PM.
Fond memories and expressions of sympathy may be shared at www.kanejerrett-thornhill.ca for the Popovich family.
In solidarity,
Gerlando Peritore
Chair, Ceremonial & Bereavement Committee
Toronto Professional Fire Fighters' Association
I.A.F.F. Local 3888
647-525-5775